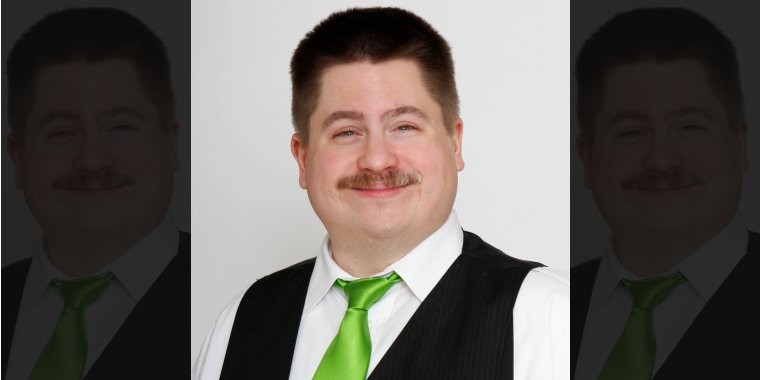 Matt Picioccio lives the dream. He has a wonderful wife, a house full of cats, got his dream job working on video games right out of college, but, most importantly, he sings for Northwest Sound! The chorus is truly lucky to have him!
Matt was born in New York, but grew up outside Harrisburg, PA. He met his wife Stephanie in high school when some friends tried to set them up for a dance, which she couldn't attend due to a babysitting scheduling conflict. They decided to go out again later and kept dating into college.  They both attended University of Maryland for computer science, one year apart. They got engaged in college and married soon after Stephanie graduated. Stephanie got a job in the federal government after college, and Matt got his dream job, working for the video game company Bethesda Softworks on the very successful Morrowind and Oblivion chapters of the Elder Scrolls game series.  Microsoft moved Matt and Steph to Washington in 2004 to work on video game tech, across several teams inside and outside of Xbox. He also got to work on lots of big secret projects like Kinect and Hololens. Matt took a break from Microsoft in 2012, first to work at a geocaching company, Groundspeak, and then at a game company called Glu Mobile. Matt also recently taught at DigiPen, which is a video game development school in Redmond. There he worked with another barbershopper, Jen Sward. He came back to Microsoft in 2016.
Matt is a true inspiration for aspiring singers in the chorus. He did not grow up with a family of musicians and, in fact, he's the only person in his family to do anything musical at all. While it's hard to believe, he says he was a terrible singer out of the gate, and he worked very hard for years to build up that bass sound we now know him for. This gives him a unique perspective when executing his duties as assistant bass section leader and makes him a great help to newbies and experienced barbershoppers alike. Matt also contributes to our brotherhood by serving on the music and visual teams.
Matt started off singing in church choirs, and he played a few instrument when he was young. In high school, he needed to get into an activity for the national honor society, so he took an "easy" one: chorus. He worked very hard it at, eventually playing a major role in his school's spring musicals in his junior and senior years. After high school, he took a break from singing for a few years, only picking the hobby back up in 2009. Once he decided to get back into the game, he had a lot of choruses in the Seattle area from which to choose, but the Northwest Sound website pulled him in with its simple message: "come sing with us!" Matt clearly took that to heart, forming the quartet "Jigsaw" with Raymond Hsu, Brady Anderson, and the late Barry Knott that competed in 2010. That quartet joined Lyric Light Opera's production of "Music Man" in 2011, playing the School Board for over a dozen shows. He later joined the Northwest Vocal Project chorus, which then ranked 6th in the 2012 international chorus contest. Matt has continued competing with NWS, but also with the quartets RipChord and Contraband, finishing both 1st and 2nd, respectively, in the Evergreen Division II finals in 2016.
Outside of his fantastic family, exciting work life, and numerous musical accomplishments, Matt loves his ragdoll cats and plays a lot of video games, board games, and pinball.