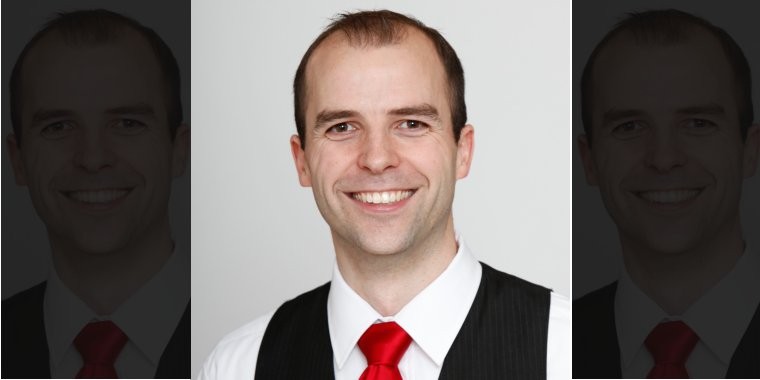 VP Events and Planning, Baritone Section Leader
Barbershop is in Sean Kelly's blood. When he was nine or ten years old his dad got him started with Northwest Sound. His dad would bring him and he came to rehearsals whenever his mom and dad would let him stay out that late. He sang in a couple of district contests and remembers putting on the stage makeup that we used in those days. If he did that he was really hooked!
During high school and college he took time away but jumped right back with it, along with his brothers, with Northwest Vocal Project in about 2005-2006. Sean has been singing ever since.
Then came the Momma's Boys quartet. During their time in NVP the Kelly brothers wanted to really experience quartetting, so Ian, Mike, and Sean along with tenor Will Chen got together. Their brother Stephen returned from his LDS mission and filled out the four brothers. With Sean and Mike holding the bari/bass parts all five have sung with the quartet at different times including fifth brother Jeremy who has sung with the quartet on special occasions
Eventually the brothers decided to return to Northwest Sound.
As this is being written, Sean is Bari Section Leader and Director of Events and Planning on the Board of Directors. He likes to help wherever he can by getting people logistically where they need to be. One job was to arrange air travel for the chorus when the chorus attended Harmony College in 2018. When the Northwest Sound Chorus sponsored the younger guys' Emerald City Sound, Sean and Mike got the guys to chorus, taught them the music, and got them to and back from their competition in Reno.
Sean is a property manager and currently is managing a couple of apartment buildings in the downtown area of Seattle. Plans are to transition from that job to a company he is starting with a friend with which he will manage single family homes and condos.
With five competitive boys in the family Sean has been very active in sports. Right now they are all playing golf. Sean plays softball and used to play competitive volleyball. In college he played for the University of Washington club volleyball team and later played volleyball with a couple of teams in the Bay Area. While there he participated in national championship volleyball tournaments.
Sean was born in Des Moines, Washington and raised in the Seattle area. His family also lived in Kirkland and Redmond. For two years they lived in Pennsylvania while his dad finished graduate school. 
He attended Bellevue College and the University of Washington starting in Pre-Med and then switching to business and accounting.
Sean is married to Katie and they have two daughters Amelie and Addison.